The most dramatic evidence of our troubled world often etches itself on the physical landscape. The pockmarks of bullets, shrapnel and bombs blasts, graffiti, and dereliction all point to the dysfunction of modern times.
In this first instalment of our exciting new photojournalism feature 'This World', CABLE Contributing Editor David Pratt puts together a series of his own stunning photos which address the theme: 'Broken Walls'. 
---
Image 1/19: A family congregates outside a bomb-shattered home in Mogadishu, Somalia (2013).
---
IMAGE 2/19: The impact of a mortar blast on a building in Batnaya, northern Iraq (2017).
---
IMAGE 3/19: A shrapnel-peppered gate at a farmhouse in eastern Ukraine (2015).
---
IMAGE 4/19: A Syrian refugee boy plays in an unfinished building in Lebanon where his family have been forced to live (2013).
---
IMAGE 5/19: An elderly woman, flanked by a government soldier, sits outside her home which has been damaged during a raid by Islamist insurgents. Niger (2012).
---
IMAGE 6/19: A man walks in the shadow of Israel's 'separation barrier' in Ramallah, West Bank (2015).
---
IMAGE 7/19: Amidst heavy fighting, an Afghan fighter stands alone in the broken ruins of an old Kabul cinema complex (1992).
---
IMAGE 8/19: A cemetery wall in Colombia containing the remains of civilians, some of whom were killed in the country's civil war (2014).
---
IMAGE 9/19: An emaciated camel stands by grain stores destroyed by Islamist insurgents. Niger (2012).
---
IMAGE 10/19: An elderly woman stands in the ruins of Mogadishu, one of the most war-damaged cities in the world. Somalia (2013).
---
IMAGE 11/19: Pro-Russian separatists on the barricades in Donetsk, Ukraine (2014).
---
IMAGE 12/19: The impact of a bullet fired by an Islamic State sniper on reinforced glass at a frontline position, east of Mosul. Iraq (2016).
---
IMAGE 13/19: A small boy stands in what remains of his home after it was burned out during inter-tribal fighting between Hutu and Hunde fighters in the Democratic Republic of Congo (2012).
---
IMAGE 14/19: Children play in the slum district of Mathare in Nairobi, where rival street gangs had fought just a few days before. Kenya (2011).
---
IMAGE 15/19: Abandoned Islamic State sentry position with graffiti in Batnaya, northern Iraq (2016).
---
IMAGE 16/19: Memorial at Nyamata Church in Rwanda comprising the clothes of those massacred during the genocide, and the weapons of those who carried out the killings (2014).
---
IMAGE 17/19: Mart Shmony Christian church crypt, converted into tunnels and bunkers by Islamic State fighters in Bartella, Iraq (2016).
---
IMAGE 18/19: Gunmen ride through the decimated streets of Mogadishu. Civilians seek shelter in the ruins. Somalia (2013).
---
IMAGE 19/19: Some of the names of the more than 8,000 Muslim male victims of the 1995 Srebrenica massacre on the memorial wall at the Potocari Cemetery. Bosnia-Herzegovina (2014).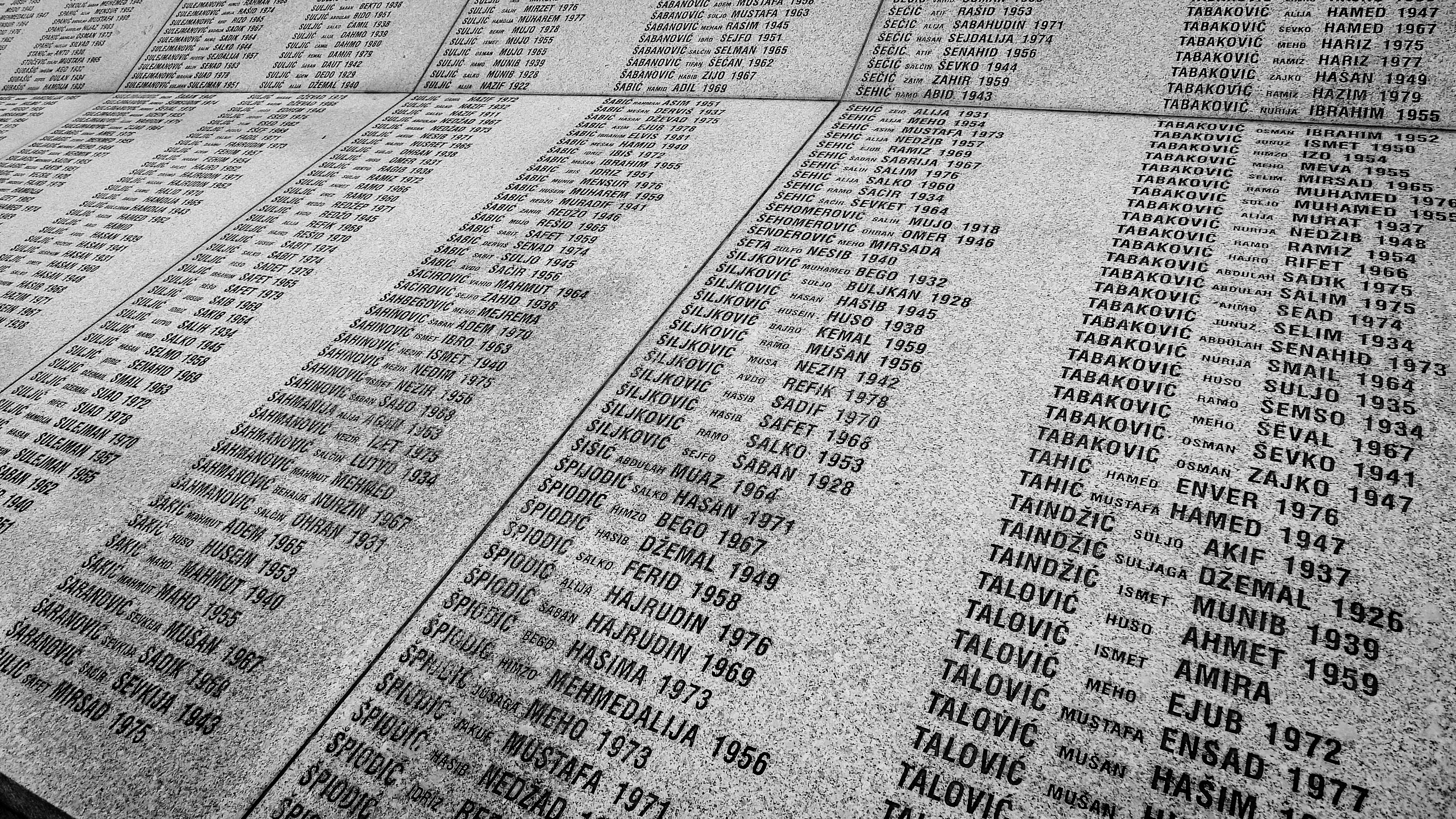 ---
David Pratt is a multi-award winning journalist, photographer, broadcaster and editor. As a correspondent, his specialist areas include conflict, humanitarian, security and intelligence issues, especially in the Arab and Islamic world and sub-Saharan Africa. He is a Contributing Editor to CABLE and at the Herald/Sunday Herald. He is on Twitter at: @foreigncorr1
---
Feature image: Coffins lie outside a Christian church in Bartella, northern Iraq, after it was ransacked by Islamic State fighters (2016). All images © David Pratt.
---