For more than half a century until it closed in 2006, RAF Saxa Vord on the Shetland island of Unst was the northern tip of UK nuclear defence. Now, amid proposals to launch space rockets from the island, the Saxa Vord early warning role is being revived. Tom Morton tells the story.
---
"Hallo, how are you and a merry Christmas to you from the north of Scotland! And when I say the north of Scotland, I mean the very north of the north of Scotland…"
The year was 1964. The speaker, on BBC TV's 'Christmas Night With The Stars' was that legendary purveyor of tartanism Andy Stewart, and he was about to enter the storm-battered Airmen's Club at RAF Saxa Vord, Unst, Shetland, where the sound of Ian Powrie and his band could be heard in all their squeezeboxing glory. Inevitably, the whole thing can be watched today on YouTube.
At the "tip-top-toe" of Great Britain, as Stewart put it, he and the Beeb had come to pay tribute to the men (all men, of course) keeping the country safe from the evils of communism. This was peak Cold War, and high above the sea-level social club, the blast-proof bunker hollowed from the hill called Saxa Vord remained on full alert as the radar dishes whirled. Out at sea, the occasional Soviet 'trawler' prowled forlornly, doubtless listening in with puzzlement and jealousy as Stewart sang stirringly about Highland whisky (four weeks before Christmas, in fact; no live satellite link in those days) and, perhaps prophetically, a man called Donald.
RAF Saxa Vord – known to be on a list of Russian nuclear targets – was the last outpost of the UK's air defence system, and had been since the Second World War. At the peak of tensions with the Soviet bloc, 300 men were stationed there, many of them with their families. Their presence swelled the island's population to 1200, rendering it extremely dependent on the base.
---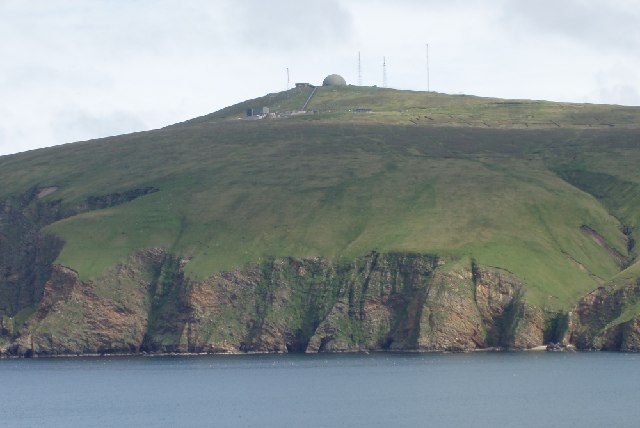 ---
Back then, Unst was reached by travelling overnight on the ferry from Aberdeen to Lerwick (or flying to Sumburgh), followed by a tortuous journey by two small, pedestrians-and-sheep-only ferries, and across the neighbouring island of Yell. It would be 1968 before an airfield was constructed, later to be known as Baltasound Airport, which would become an important helicopter base for the oil industry.
DECLINE AND UNCERTAINTY
By 2000, RAF Saxa Vord had been run down, carved to a rump as the 'Glasnost dividend' kicked in. By 2005, the last uniformed personnel departed, leaving an island already in economic shock from Chevron's decision to pull oil traffic out of the airport in 1995. The population of Unst tumbled to 600.
A huge clutter of redundant buildings, including two RAF housing schemes, was left. A 'Remote Radar Head' – a Plessey AR-320 L-band ground based air surveillance unit –  was operated as part of the the UK Air Surveillance and Control System (ASACS)  by staff at RAF bases in England, reporting to the NATO Combined Air Operations Centre in Germany, allegedly until April 2006. There have always been rumours that the 'top base' was still in use, in some capacity. Groups of Ministry of Defence personnel continued to visit the island regularly to maintain whatever was up there, behind the barbed wire.
---
There have always been rumours that the 'top base' was still in use, in some capacity. Groups of Ministry of Defence personnel continued to visit the island regularly to maintain whatever was up there, behind the barbed wire.
---
The ground base at Haroldswick was sold off, along with the modern and luxurious officers' married housing, to Military Asset Management, a company run by ex-RAF entrepreneur Frank Strang, once the owner of Prestwick Airport and much else. He and his wife Debbie have since opened part of it as a resort hotel, with bar and restaurant.
Other buildings have been pressed into service – as a brewery, a gin distillery, and until recently a café, museum, and bike hire business. Most recently, in a blaze of publicity, Strang announced the formation of The Shetland Space Centre Ltd, a company aimed at capitalising on a UK Space Agency report identifying Unst as an ideal location for satellite launches. Ironically, Prestwick was one of the other locations mentioned in the report.
These exciting new developments would all happen north of Saxa Vord itself. Meanwhile, beyond the stern warning signs about the Official Secrets Act and radiation hazards, the 'lower' and 'mid' bases remain under uncertain ownership. For years, the top base remained an enigma, wrapped in speculation and occasional stories about young Unst trespassers opening apparently unlocked doors to find mysterious banks of modern computer equipment, winking, whirring and bleeping away. It was the Edge of Darkness at the Edge of the World.
---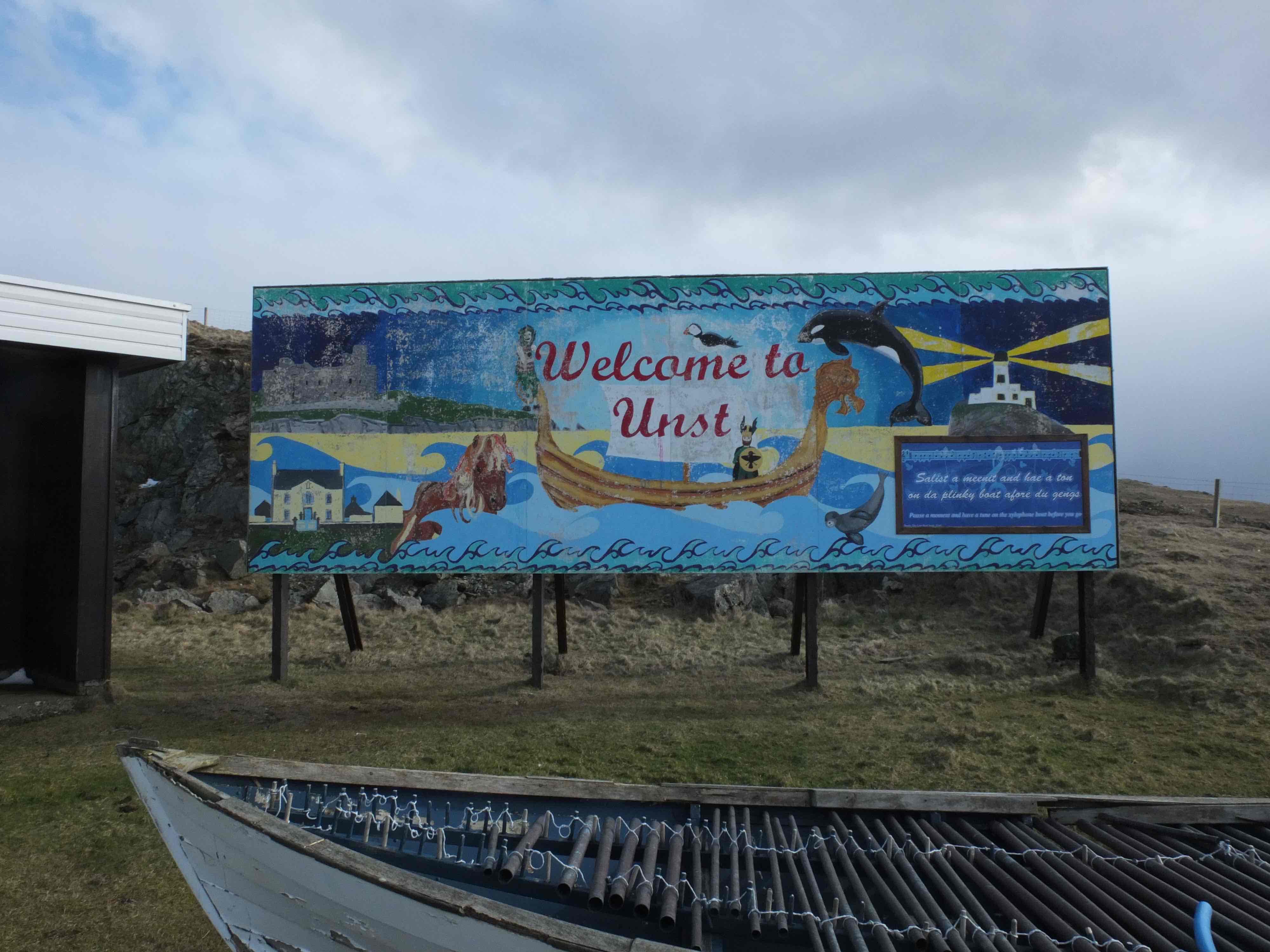 ---
Despite these great changes, Unst coped. It has always coped. It has to handle the highest recorded coastal windspeeds in Scotland, and a winter darkness so deep and enveloping it's been thought of as a tourist attraction in itself. Economically, salmon farming employs some. There's a bit of fishing, a few craft businesses, crofting, and knitting. No-one talks about past plans to mine for uranium or gold. Frank Strang's proposals for Battlestar Galactica Earthbase are regarded with amused positivity. The Pure Energy Centre exports its expertise in renewables across the world, and there's a state of the art boatbuilder. In summer, there's a great deal of tourism. Everything here is 'Britain's northernmost'. Unst possesses some outstanding coastal scenery, astonishing and largely unexcavated archaeology, a huge array of Viking remains, and incredible wildlife. It is more than justified in calling itself 'the island above all others'.
---
Despite these great changes, Unst coped. It has always coped. It has to handle the highest recorded coastal windspeeds in Scotland, and a winter darkness so deep and enveloping it's been thought of as a tourist attraction in itself.
---
And now the RAF is coming back. Or sort of. In September this year, it was announced that radar was returning to Unst, and that an MOD team would be arriving the following month to start installing new equipment. Parliamentary under-secretary for defence procurement, Harriet Baldwin, wrote in a letter to Northern Isles MP Alistair Carmichael that work would begin "to restore the radar capacity." She also revealed that something had indeed been going on on top of Saxa Vord since 2006, albeit in extremely vague terms: "A small amount of military and civilian radio and datalink equipment," she said, "has continued to operate from retained elements." While there were currently "no long-term plans to station any additional personnel at the Saxa Vord site, RAF personnel and contractors will need to attend the site periodically to ensure continued serviceability." This was translated locally into "up to 50" people working on the site throughout the winter, while there could be a semi-permanent staff "into the double figures."
NEW RADAR. NEW GROWTH?
There is, as I write, still some uncertainty about where these new personnel will all stay. Two holiday cottages have been rented, and the Baltasound Hotel – fondly known to many as 'Balty Towers' – which is normally closed in winter, may partially reopen. In contemplating the new possibilities, all eyes turned, ironically, to the Strangs' former RAF quarters at Haroldswick. A call in October to the resort elicited the response: "I am not a liberty to discuss this." Presumably, room has to be reserved for prospective astronauts. There have been rumours of specialist temporary accommodation being constructed at the airport.
Local councillor Ryan Thomson told CABLE there was certain to be a major short-term impact:
"Certainly, the addition of any level of man power, particularly to the level we expect, on an island the size of Unst is bound to have a large impact initially on the Unst economy. The local businesses will without doubt receive a boost in the short term, and hopefully in the longer term too if as a knock-on result of this more permanent positions become established. Time will tell."
At the end of October, under-secretary for defence procurement Baldwin wrote again to Alistair Carmichael, this time to confirm that work had started and would take a year, with "between 10 and 30" staff on site at any one time. Delivery would involve "the construction and installation of a radome and supporting structure, the dismantling of existing metal towers and the construction of a temporary windbreak." Everything would "depend highly on local weather conditions…especially the wind." Indeed.
Under-secretary for defence procurement Harriet Baldwin confirmed that the radar would be operated remotely, but also raised hopes of a long-term workforce on the island once more, with numbers "finally reducing to what is required to maintain the site on a periodic basis, once all of the work has been completed."
For Alistair Carmichael, "anything which is there should be good for the community. It will bring some activity into the local economy, albeit in a wider sense under circumstances you might not necessarily want."
And there's the rub. The circumstances. The fact is: the world is in a state of turmoil. There's the Other Donald, the one kilted minstrels don't sing songs about. There's North Korea. And then there's Vladimir Putin's ambitions for a Greater Russia and, in particular, for Russian dominance of the northern sea routes, newly accessible due to Arctic warming. These developments have been made all the more relevant to Unst – and the rest of the UK – in the form of ancient Russian Tupolev Tu-95 'Bear' turboprop bombers, and much more modern Tu-160 supersonic Blackjacks, that have regularly been intercepted by RAF fighters as they probed UK air defence systems.
That would be the air defence systems that, in Unst's case, weren't actually there.
SAXA VORD: A KEY LINK IN A NORTHERN CHAIN
According to one European defence website, the radar being installed in Unst is a Lockheed Martin AN/TPS-77 L-band ground-based surveillance radar, which will be relocated from the RAF's Staxton Wold base near Scarborough, one of the five 'reporting units' left after Saxa Vord closed in 2006. The only one in Scotland until now was at RAF Buchan in Aberdeenshire.
The unit going into Unst is relatively small, and in fact is used on mobile trailer units in some theatres, notably Australasia. At Saxa Vord, as Harriet Baldwin hinted, the unit will have to be anchored down very firmly indeed. This is, after all where the legendary 'Hogmanay Hurricane' of 1991/92 completely destroyed the upper radar domes and tragically killed two holidaymakers who were sheltering in a bird hide at Hermaness. The wind speed reached 197 mph – before the anemometer at the Muckle Flugga lighthouse was blown away.
The 'new' Saxa Vord radar will form part of NATO's northern air defence system, which is undergoing a number of substantial changes elsewhere. The US Air Force has begun rotating P8 Poseidon patrol aircraft and F-15 interceptor squadrons to the Keflavik air base in Iceland. US forces left the base in 2006, as part of a US drawdown in Europe. They returned ten years later, as tensions with Russia (and Russian submarine activity out of the Arctic) began to escalate. NATO members continue to rotate the task of policing the skies over Iceland, which has been a member of the Alliance since its formation in 1949 but has no military forces of its own.
North American air defence installations are also under review. The Canadian government is contemplating the investment of billions of dollars to upgrade the 1980s-vintage nuclear defence radars it operates jointly with the USA under NORAD (North American Aerospace Defense Command). It's planned to have these new radars in place by the 2020s.
---
When viewed in this context, it's possible to see the revival of Unst as the final link in a chain of northern NATO defence radars, extending from North America to the Scandinavian borders with Russia.
---
When viewed in this context, it's possible to see the revival of Unst as the final link in a chain of northern NATO defence radars, extending from North America to the Scandinavian borders with Russia. Factor in high-profile land exercises in Norway by US Marines, the ongoing political debate in Finland regarding possibly joining NATO (something its Russian neighbour finds highly provocative), and the Russians bolstering their radar and air defence systems as well. It's all happening.
And in October, it was all happening off the Scottish coast as a medium-range ballistic missile flying at 20,000 kilometres per hour was fired from the Hebrides range (upgraded in 2015 at a cost of £60 million and with operations now guaranteed until 2028) as part of the NATO exercise Formidable Shield 17. It was destroyed by a Raytheon SM-3 missile fired by the Royal Netherlands Navy air defence and command frigate HNLMS De Ruyter.
---
---
Meanwhile, in Unst, Community Council chairman Gordon Thomson isn't too worried about Unst's presumably renewed status as a nuclear target. If, indeed, it had ever lost this designation.
"I don't think we're worried about any threat," he told CABLE. "Or ever were. Maybe individual people felt that. I think if you worried too much about that, you wouldn't stay here long. It was always seen as a fairly routine, day to day thing. Yes, there were occasional Russian planes, and a fighter would be scrambled from Lossiemouth, or wherever, to chase them away. But it always seemed to be a lot of manoeuvring. I don't think we thought there would be a lot of damage taking place."
As for the effect on Unst's economy from the new radar development, Thomson – who masterminds the Unst Partnership project, which aims to develop local businesses – wants to wait and see:
"There's obviously going to be a lot of people here for the construction phase. But after that, if the base is remotely manned, there may not be any jobs associated with it. I'd guess there will be other radar stations becoming active elsewhere in the country, and maybe over in Norway. It's presumably part of the world situation with Russia and so forth, but I don't know if it's going to have anything like the same impact here it had between the 1950s and 2000."
Councillor Ryan Thomson maintains that it's important to recognise that the world is, and always has been, a dangerous place:
"In terms of any potential attack, nuclear or otherwise, I hope and trust the reinstallation of the radar at Saxa Vord is nothing more than a precautionary measure by the MOD. It will deal with what is a substantially uncovered area at the very north end of the UK and is understood to have a two-hundred-and-fifty-mile range.
It was understood that Unst was one of around a hundred nuclear targets back when RAF Saxa Vord was at its peak in the 1970s, under Sir Edward Heath's Tory Government. But we must remember that although the world is dangerous, it was equally so back in 2006 when RAF Saxa Vord pulled out of Unst completely. The ability to monitor the top of the UK, rather than anything more sinister, is what I believe is behind the installation of the radar.  Unst offers a completely unique geographical position for many things, something the Ministry of Defence has clearly recognised."
The developments in progress on Unst are unlikely to prompt anything like a repeat of Andy Stewart's Christmas night TV show from Unst in 1964. But the fact that the Saxa Vord early warning role is being revived demonstrates that whilst much has changed in the succeeding decades, much has remained the same. And Unst, at the "tip-top-toe" of Great Britain, clearly has a role to play.
---
Tom Morton is a writer and broadcaster, based in Shetland.  He blogs at thebeatcroft.co.uk
---
Feature image: the perimeter fence at the Saxa Vord facility. © Tom Morton
---