Ryan Swan looks at changing policy and practice towards refugees in Lebanon and considers how this reflects a wider international trend in attitudes towards refugees.
---
President Donald Trump's Muslim travel ban (currently being reviewed by the US Supreme Court) brings into focus not only the persecution of a religious minority in the West under a well-worn pretext of security, but also the precariousness of refugee and asylum seeker status on a global level. With the United States (US) as the top country of choice for displaced people looking to resettle elsewhere, the ongoing deterioration of opportunity for those seeking refuge will shift the pressure onto other states. No other country is more familiar with that pressure than Lebanon, which has been hailed as a model 'host country' due to having the highest concentration of refugees in the world. The reality is that for Palestinian and Syrian refugees, the label 'host' has long been a dark misnomer; and, as a consequence of current geopolitical trends in the Levant, it may become obsolete.
LEBANON: A FORGOTTEN REFUGE
Across the past six years, the Syrian war has captured international attention.  The country is in ruins, much of its population is dead or in exile. In the limited choice between fleeing the conflict and remaining in the chaos, many Syrians have taken the former option and have ended up in Lebanon, hoping to return home once the carnage in their own country is over. Their existence as a waiting community living in deprived suspension in refugee camps and ghettos has gained sympathy and solidarity.  What remains underacknowledged is that the sizeable Syrian refugee population in Lebanon is merely a recent addition to the many existing refugee communities residing in that country, some of whom have been living there for decades.
---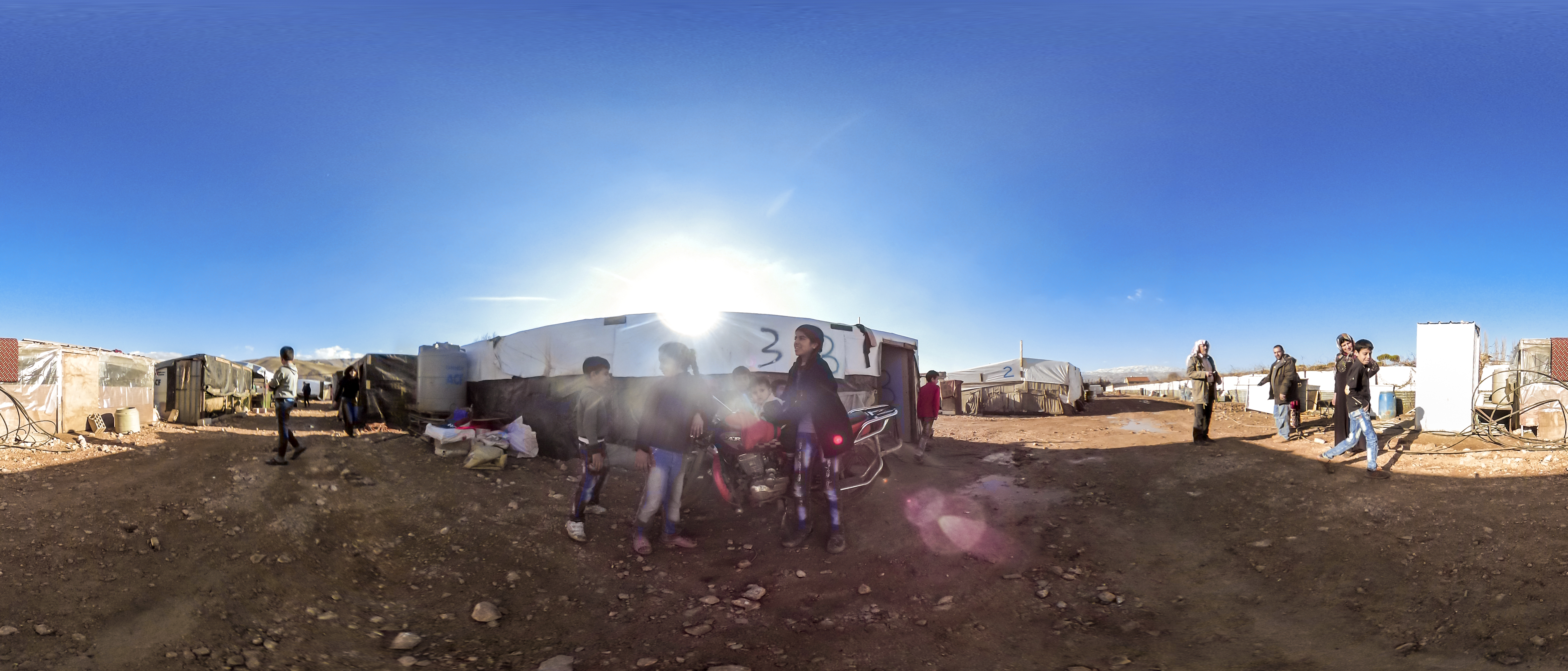 ---
Lebanon's refugee population has accumulated over different periods as a consequence of various regional conflicts. Syrian refugees are the most recent arrivals and constitute the largest group, numbering over 1.1 million people. The Palestinian refugees in Lebanon are descendants of those who were expelled from Palestine in 1948 and 1967. Within this group of 400,000, around 3,000 people are undocumented or 'non-ID' refugees. Palestinian refugees from Syria (those who are now refugees for a second time, having been expelled first from Palestine and now from Syria) number around 40,000.
The problems facing each refugee group vary in severity. Many of those problems arise from being categorised and prioritised differently by Lebanese state policy, aid agencies, and NGOs. Syrian refugees enjoy better treatment – comparatively at least – than the other groups, primarily due to the pressure upon organisations to be seen to be 'doing something'. In an interview with the author, Raji Abdul Salaam of the Palestinian Human Rights Organisation in Lebanon, argued that influx of, and focus on, Syrian refugees coming to Lebanon has "shifted all the [humanitarian] funds to Syrian refugees." The impact here on Palestinian refugees is direct: for the past five years, this change in aid distribution "left Palestinian refugees outside of the 'fund circle'." Below Syrians in the 'refugee group hierarchy', Palestinians from Syria, to begin with, were given good services, notably assistance with rent and food rations. However, the UN Relief and Works Agency for Palestinian Refugees in the Near East (UNRWA) was in a serious deficit at that time leading to a deterioration in the education it provided and a worsening of overcrowding. For aid organisations, Syrian refugees are now at the centre of an ongoing conflict while Palestinians are 'old news'.
---
For aid organisations, Syrian refugees are now at the centre of an ongoing conflict while Palestinians are 'old news'.
---
Most of the 40,000 Palestinian refugees from Syria (or Palestinian-Syrian refugees) have since fled to Europe. Those remaining live in the camps with the Palestinian Lebanese refugees. The prioritising, by aid agencies, of the recent influx of Syrian refugees has caused clashes between them and Palestinians in the Beqaa region, which is extremely deprived. On the bottom rung of the ladder are the non-ID refugees who, having been marginalised and neglected for decades, have seen their situation worsen. The Lebanese government claimed to have solved the problem by requesting this group renew their documents with General Security (the agency responsible for issuing passports and visas), thus granting them legal residency but the situation remains unsustainable. Most of the 3,000 – living in 'gatherings', conditions worse than the camps – did not renew their papers (only around 700 did so).
The decades-long experience of Palestinian refugees in Lebanon is instructive here in understanding Lebanon's 'host country' character. Palestinian refugees have not been officially recognised by the Lebanese state, which has long refused to define them legally. As such, they are denied basic rights accessible to Lebanese citizens – these include the right to work and the right to own property. Those of 'non-ID' status are denied even the right to a legal personality. For those living in the camps – the majority – freedom of movement is heavily curtailed. The camps around the southern cities of Sidon and Tyre are surrounded by Lebanese Army checkpoints and have limited access to outside. Rashidieh camp in Tyre, housing 27,000 refugees, has only one entrance/exit. The Ain al-Hilweh camp in Sidon has, as of 2009, a wall built on its east side. But in late 2016, the Lebanese Army began the construction of a concrete wall on the west side of the camp, thereby exacerbating the sense of encirclement among the 70,000 people who live in the one kilometre square facility. The camps in Lebanon are, without exception, Palestinian ghettos: narrow streets divide clumps of overlapping houses with poor sewerage and overcrowding, sunlight and fresh air struggle to enter. These ghettos are changing now to function essentially as prisons.
---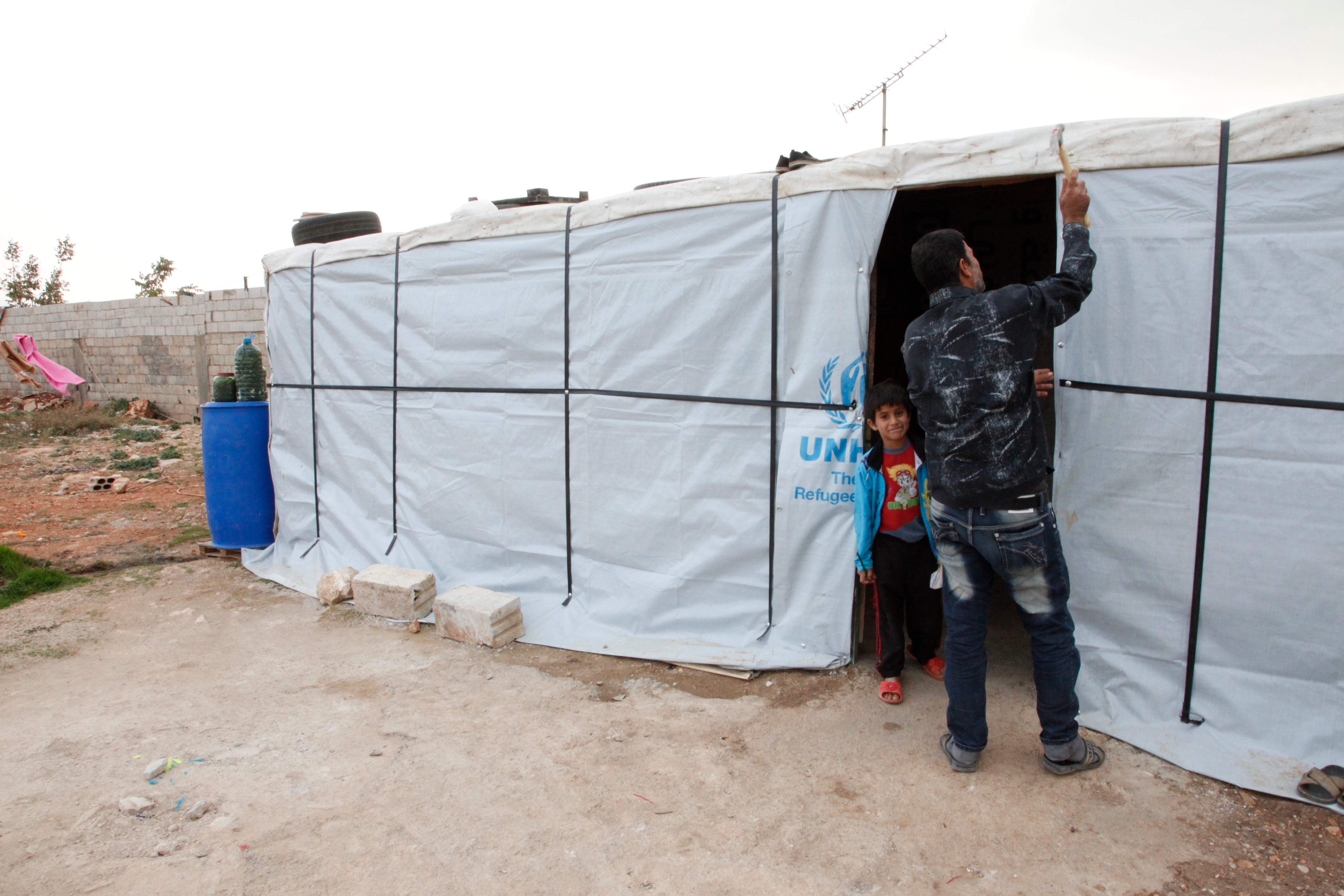 ---
For the Syrian refugees, the increasingly hostile environment inside Lebanon manifests itself in other ways. Lebanon has now closed its borders to them, and those who managed to settle before are now struggling to pay the myriad costs imposed upon them. The punitive residency fee of $200 for registered Syrian refugees has now been scrapped, but registered refugees in some cases have to pay a 'sponsor' (a Lebanese national who can vouch for them) and pay the municipality (local council) in order to work. Compounding this problem is the decision by the state to prevent the establishment of any formal camps for Syrians.
International agencies have played a key role in this crisis, drawing cutting criticism from refugees of all backgrounds in Lebanon. In a recent conversation with the author, Maya Zebdawi, a Palestinian refugee at the Beirut Arab University, described their policies as having two pillars: to serve media attention; and to serve state policy toward refugees (which exacerbates the crisis of displacement). This, she says, means that charity NGOs are "increasingly administered by donor policies, delivering services sporadically and unequally among families" and, worst still, have "denied Palestinian refugees any aid without notice". This against a backdrop of shrinking UNRWA contributions. Moreover, the general maladministration of aid resources is leading to a surge in Syrian refugees working in the black market (part of their undocumented status).
---
A 2014-15 survey by World Humanitarian Summit points to a high level of mistrust towards aid groups in refugee, migrant, and internally displaced communities in Egypt, Jordan, Lebanon, Palestine, and Yemen.
---
A 2014-15 survey by World Humanitarian Summit points to a high level of mistrust towards aid groups in refugee, migrant, and internally displaced communities in Egypt, Jordan, Lebanon, Palestine, and Yemen. People within these communities were asked to rate a number of statements, among them: if they believed aid groups were neutral and impartial; if aid groups considered their opinions; if their priority needs are met by aid groups; and, if aid groups treat their community with respect and dignity. In all except one case, respondents in Lebanon scored lowest of all.
PRESIDENTIAL AGENDAS
With a clear feeling of disaffection and distrust among the refugee population toward the various bureaucracies and organisations at work in Lebanon, it is worth looking at the position taken by the upper echelon of political power in the country. Lebanon had been without a president for 29 months until the election of Michel Aoun at the end of 2016. As a general in the Lebanese Civil War (1975-1990) he launched what he called a 'war of liberation' against Syrian occupation in 1989, while controlling only a part of the then-divided Lebanese Army. Aoun's full-on assault upon Hafez al-Asad's forces was met with a brutal response of siege and bombardment by the Syrian Army on Aoun's areas of control and areas loyal to him. In an ironic alliance shift reminiscent of the civil war, Hafez's son endorsed Aoun's candidacy for president in June 2014 and the Syrian state-linked daily, al-Watan, celebrated his win.
---
Having previously called for the return of Syrian refugees to Syria, and the labelling of them as a threat to Lebanon, President Aoun renewed this call in the wake of President Trump's announcement of the Muslim Ban.
---
Having previously called for the return of Syrian refugees to Syria, and the labelling of them as a threat to Lebanon, President Aoun renewed this call in the wake of President Trump's announcement of the Muslim travel ban. Mr Trump has signalled his support of this forced repatriation of refugees, and the establishment of 'safe zones' for them to shelter in. Trump's Syrian counterpart - President Bashaar al-Asad – also holds this view of dealing with refugees. This plan, a violation of the principle of non-refoulement, has gained no international support from organisations dealing with displacement.
Despite the unlikelihood of Aoun's plan being implemented, its proposal serves to illustrate the value of refugees to those 'host' countries. Were this plan to go ahead, the US and Lebanon would free themselves of responsibility as hosts. This ambition has become clearer in recent months and could be achieved, at least in part, under a Trump presidency if the Muslim travel ban were to be implemented. Whether or not measures like this will prove workable and successful in the long term, one thing seems clear: growing opposition to the movement of refugees means a new strategy is needed to avert further breakdown in the current system of resettlement.
---
Ryan Swan is a freelance translator and writer. His main interests are asylum and refugee studies, works by Syrian revolutionary thinkers, and political Islam. He is on Twitter at: @Ryan0Swan
---
Featured photo: An informal tented settlement of Syrian refugees in the Beqaa Valley, Lebanon. Image: Russell Watkins/DFID. [CC BY 2.0]
---